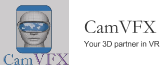 Search by Keyword

Product Categories

Shopping Basket

Note:

All prices in US Dollars

Specials

Aleta S1AVAILABLE Now - Direct Shipping from San Diego California



Sensor: 2.4 MP Exmor COMS

Lens: 2.3mm wide angle lens

Viewing Angle: 360 x 210

User Interface: 0.96" OLED

Video Format: H.264 / MJEPG

Video Resolution: 3840 x 1920, 3072 x 1536

Photo: JPEG - 6144 x 3072, 6144 x 1152, 3840 x 1120, 3072 x 896 or 3072 x 576 resolution

WiFi: 802.11n

Memory: MicroSD 4GB to 128GB

Audio: 2 way

Geotagging: yes

OS: Android, iOS, Windows, MacOSX Battery: 1800mAh 3.7V LiPo (1.5 hour recording life)

Power: 5V 1A (USB)

Humidity: 0-90%

Dimensions: 57x 57 x 52 mm

Weight: 146g



Basic 3.0 iPiSoft Software 1 YearProduct Summary - Basic, using one or two Kinect (s) or 3 to 6 PS3 Eye camera software version 3.0 annual license

VRPrime - Virtual Reality HeadsetVRPrimeTM - virtual reality goggle headset that does not need a smartphone! Join the VR revolution and immerse in the 3D world.
VRPrime Users ManualDownloadable Users Manual and Health Safety Documents for VRPrime Headsets


Product Description –

iPi Desktop Motion Capture™ Basic version is an affordable markerless motion capture technology that literally puts motion capture at animator's desktop. You can shoot a video and produce 3D animation right at your workplace, using a typical PC and 1or 2 Kinect(s) and/or 6 PSP3Eye webcams. The system is easy to install and operate. iPi Desktop Motion Capture features integrated animation clean-up tools, motion retargeting tools and a set of exporters for popular formats. Animations created with iPi Desktop Motion Capture can easily be imported into popular 3D applications including 3D MAX, Maya, XSI, Poser and iClone. Free 30-days trial is available.

System requirements: Windows XP, Windows Vista or Windows 7 .NET Framework 3.5 SP1 DirectX 10 (Shader Model 4.0)- compatible video card (NVIDIA GeForce GT250 or ATI Radeon HD 4850 or better recommended) 1 Microsoft Kinect sensor or minimum 3 Sony Eye.
---