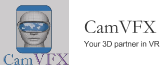 Search by Keyword

Product Categories

Shopping Basket

Note:

All prices in US Dollars

Specials

Aleta S1AVAILABLE Now - Direct Shipping from San Diego California



Sensor: 2.4 MP Exmor COMS

Lens: 2.3mm wide angle lens

Viewing Angle: 360 x 210

User Interface: 0.96" OLED

Video Format: H.264 / MJEPG

Video Resolution: 3840 x 1920, 3072 x 1536

Photo: JPEG - 6144 x 3072, 6144 x 1152, 3840 x 1120, 3072 x 896 or 3072 x 576 resolution

WiFi: 802.11n

Memory: MicroSD 4GB to 128GB

Audio: 2 way

Geotagging: yes

OS: Android, iOS, Windows, MacOSX Battery: 1800mAh 3.7V LiPo (1.5 hour recording life)

Power: 5V 1A (USB)

Humidity: 0-90%

Dimensions: 57x 57 x 52 mm

Weight: 146g



Basic 3.0 iPiSoft Software 1 YearProduct Summary - Basic, using one or two Kinect (s) or 3 to 6 PS3 Eye camera software version 3.0 annual license

VRPrime - Virtual Reality HeadsetVRPrimeTM - virtual reality goggle headset that does not need a smartphone! Join the VR revolution and immerse in the 3D world.
VRPrime Users ManualDownloadable Users Manual and Health Safety Documents for VRPrime Headsets


Air Mouse-Air KeyBoard Combo2.4GHz wireless with nano-USB receiver. Air mouse with Vibration technology built-in. QWERTY keyboard to speed through set up and chats. Support multiple platforms. Remote control especially designed for Android based devices like TV Box and other Android systems that have an USB port. Includes rechargeable Li-Ion Battery.
HeadTrackingAdapter Elastic Frame
Kinect TriPod / Wall Mount

Standard TriPod and Wall mount fitted adapter for Microsoft Kinect.

Removable Sony PS3 Eye Mounting Base Adhesive

Semi-Permanent attachment for the Sony PS3 Eye camera - has bottom side adhesive which allows secure attachment to almost any flat surface. Easy removable with no damage to the surface or the camera base. Attaches to the base of the camera with semi-permanent , but removable adhesive.

Universal Sony Eye or Kinect Wall Mount

Custom wall mount adapter for both the Sony PS3 Eye Cameras and / or the Microsoft Kinect sensor. Can be combined with the optional tripod and tripod adapter to make a complete universal solution.

Universal Sony PS3 Eye and/or Kinect Mounting Base Adapter

Sony PS3 Eye camera bottom side base matching adapter with universal camera threads to allow for secure attachment to standard tripods. Attaches with semi-permanent adhesive, included.

Universal Sony PS3 Eye or Kinect Mounting Adapter SET of 2
Universal Sony PS3 Eye or Kinect Mounting Adapter SET of 3
Universal Sony PS3 Eye or Kinect Mounting Adapter SET of 4
Universal Sony PS3 Eye or Kinect Mounting Adapter SET of 6
Universal Telescoping 6' Tripod for Kinect and or Sony PS3 Eye

Telescoping 6' TriPod. Has universal camera threads which mates with any commercially available standard camera mount, or to our optional Sony camera base adapter or optional Sony or Kinect wall / tripod mounts (ordered separately) to secure the Sony PS3 Eye or the Kinect in position during motion filming.
---