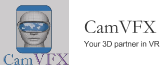 Search by Keyword

Product Categories

Shopping Basket

Note:

All prices in US Dollars

Specials

Aleta S1AVAILABLE Now - Direct Shipping from San Diego California



Sensor: 2.4 MP Exmor COMS

Lens: 2.3mm wide angle lens

Viewing Angle: 360 x 210

User Interface: 0.96" OLED

Video Format: H.264 / MJEPG

Video Resolution: 3840 x 1920, 3072 x 1536

Photo: JPEG - 6144 x 3072, 6144 x 1152, 3840 x 1120, 3072 x 896 or 3072 x 576 resolution

WiFi: 802.11n

Memory: MicroSD 4GB to 128GB

Audio: 2 way

Geotagging: yes

OS: Android, iOS, Windows, MacOSX Battery: 1800mAh 3.7V LiPo (1.5 hour recording life)

Power: 5V 1A (USB)

Humidity: 0-90%

Dimensions: 57x 57 x 52 mm

Weight: 146g



Basic 3.0 iPiSoft Software 1 YearProduct Summary - Basic, using one or two Kinect (s) or 3 to 6 PS3 Eye camera software version 3.0 annual license

VRPrime - Virtual Reality HeadsetVRPrimeTM - virtual reality goggle headset that does not need a smartphone! Join the VR revolution and immerse in the 3D world.
VRPrime Users ManualDownloadable Users Manual and Health Safety Documents for VRPrime Headsets


Whether you're creating games, or producing animation for TV or film, Maskarad lets you easily create expressive, realistic facial animations from video. In fact, Maskarad automatically converts the details and nuances of an actor's video to animation data ready to be used in your favorite 3D package to easily animate your own character rig.

Maskarad uses state-of-the-art technology to automatically locate and track head motion as well as facial expressions and precise lips movements. No messy or cumbersome face marker setups, no expensive dedicated hardware and no need to outsource any part of your pipeline. Just a simple video file featuring an actor performance is all you need to create lifelike facial animations.

Maskarad not only analyzes video files, it also processes the audio track and precisely detects the phonemes timing of the actor speech. Maskarad takes lips animation to the next level by using an intelligent phonetic engine to break down audio tracks cleanly. It automatically detects phonemes and has an impressive language support that can handle almost any language including English, Spanish, French, Japanese,Italian and German.

Maskarad is a standalone Windows application that can easily be integrated in any production pipeline. Select a video and Maskarad will quickly output motion capture files ready to be imported in your favorite 3D applications including 3ds max, Lightwave, Maya, Softimage and MotionBuilder.

Maskarad animation data works on just about any character rig, from blend morph shapes to bone-based rigs as well as complex custom rigs, your character will have.

With Maskarad, you get everything you need to perform markerless facial performance capture, this includes:

- Track every and anyone, from all ethnicities, all ages and fully supports facial accessories like facial hair, glasses and piercings.

- Accurate head positioning, able to track fast head movements and head rotations.

- Accurate markerless facial features detection, fully automated without any complicated marker setup.

- Interpolated shapes data, automatically output animation curves to easily control facial poses using morph targets or blend shapes.

- Phonetic detection support most languages, including English, French, Spanish, Japanese and many others.

- Input wide range of video formats, including Quicktime, AVI, and MPG formats.

- Output numerous motion capture file formats, including FBX, C3D, BVH and HTR

- Rig independent set-up, full support for any type of facial rigging including bones, blend shapes, morph targets, and complex custom rigs.

- Float Licensing, so you can easily share licenses across your network.

Cannot find the answer to your questions? Contact us and we will be glad to assist you

Maskarad outputs motion files ready to be imported in your favorite 3D applications including 3ds max, Lightwave, Maya, MotionBuilder and Softimage.

The process of mapping the motion data files to your own character rig is called 'motion retargeting'. Most 3D applications offer many options for retargeting motion. From simple retargeting options to advanced weight-able constraints setups, you should be able to find numerous motion retargeting options to suit your specific production needs in most 3D applications. Once the data is imported, you can use the tools offered in your 3D software to connect your character rig to the performance capture animation data produced by Maskarad.

Maskarad comes at the time of purchase with a 12 months complimentary Premium support package.
---