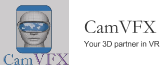 Search by Keyword

Product Categories

Shopping Basket

Note:

All prices in US Dollars

Specials

Aleta S1AVAILABLE Now - Direct Shipping from San Diego California



Sensor: 2.4 MP Exmor COMS

Lens: 2.3mm wide angle lens

Viewing Angle: 360 x 210

User Interface: 0.96" OLED

Video Format: H.264 / MJEPG

Video Resolution: 3840 x 1920, 3072 x 1536

Photo: JPEG - 6144 x 3072, 6144 x 1152, 3840 x 1120, 3072 x 896 or 3072 x 576 resolution

WiFi: 802.11n

Memory: MicroSD 4GB to 128GB

Audio: 2 way

Geotagging: yes

OS: Android, iOS, Windows, MacOSX Battery: 1800mAh 3.7V LiPo (1.5 hour recording life)

Power: 5V 1A (USB)

Humidity: 0-90%

Dimensions: 57x 57 x 52 mm

Weight: 146g



Basic 3.0 iPiSoft Software 1 YearProduct Summary - Basic, using one or two Kinect (s) or 3 to 6 PS3 Eye camera software version 3.0 annual license

VRPrime - Virtual Reality HeadsetVRPrimeTM - virtual reality goggle headset that does not need a smartphone! Join the VR revolution and immerse in the 3D world.
VRPrime Users ManualDownloadable Users Manual and Health Safety Documents for VRPrime Headsets


The GCSx camera controller system takes your game and animation cinematic creation into hyper-drive. The handheld recording device automates all the key framing steps in the filming of your simulation. Significant cost savings and performance into the hands of the director! It is plug and play integrated into Epic's Unreal Engine plus fully operational inside Autodesk's Maya and 3dsMax software packages running Craft Animations toolset. The GCSx performed flawlessly in the premier eSports Video Gaming competition that was covered like an NFL game and broadcast in HD!! See our subsidiary info here.

If you desire a system, there are numerous options and alternatives including accessories and training. Once you decide to purchase please contact us by email and a purchase agreement will be generated along with an Invoice for payment.
---