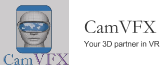 Search by Keyword

Product Categories

Shopping Basket

Note:

All prices in US Dollars

Specials

Aleta S1AVAILABLE Now - Direct Shipping from San Diego California



Sensor: 2.4 MP Exmor COMS

Lens: 2.3mm wide angle lens

Viewing Angle: 360 x 210

User Interface: 0.96" OLED

Video Format: H.264 / MJEPG

Video Resolution: 3840 x 1920, 3072 x 1536

Photo: JPEG - 6144 x 3072, 6144 x 1152, 3840 x 1120, 3072 x 896 or 3072 x 576 resolution

WiFi: 802.11n

Memory: MicroSD 4GB to 128GB

Audio: 2 way

Geotagging: yes

OS: Android, iOS, Windows, MacOSX Battery: 1800mAh 3.7V LiPo (1.5 hour recording life)

Power: 5V 1A (USB)

Humidity: 0-90%

Dimensions: 57x 57 x 52 mm

Weight: 146g



Basic 3.0 iPiSoft Software 1 YearProduct Summary - Basic, using one or two Kinect (s) or 3 to 6 PS3 Eye camera software version 3.0 annual license

VRPrime - Virtual Reality HeadsetVRPrimeTM - virtual reality goggle headset that does not need a smartphone! Join the VR revolution and immerse in the 3D world.
VRPrime Users ManualDownloadable Users Manual and Health Safety Documents for VRPrime Headsets


Annual extension of product warranty and technical support. Each installment will increase the coverage by 1 year from end of original coverage period. Provides license key maintenance, hardware warranty, and technical support for 12 months.
---